I reckon we've all had our share of wet backsides hunting in NZ, whether it being caught out in a storm or just hunting in the rain. Over here in OZ in the country I hunt, rain means no hunting. Red dirt roads turn to mud and become impassable, farm roads and tracks are the same, and the quickest way to bugger up your welcome on a property is to wreck the farm roads trying. On some of the bigger properties getting caught in a storm can mean staying put; no getting home or getting bogged trying.
We have just experienced the wettest winter / spring period since I have been in Australia, and consequently the leanest winter/spring period for hunting. To add to the frustration any dry periods required catch up operations in the large Almond plantation I work in. Mostly weed spraying, and because of the continual rain, the weeds keep growing and we can't get tractors into the trees. Perhaps the most frustrating aspect of this very wet season for me was the serious lack of work for the young team of dogs that are working together after the retirement of my two old mainstays about 15 months ago.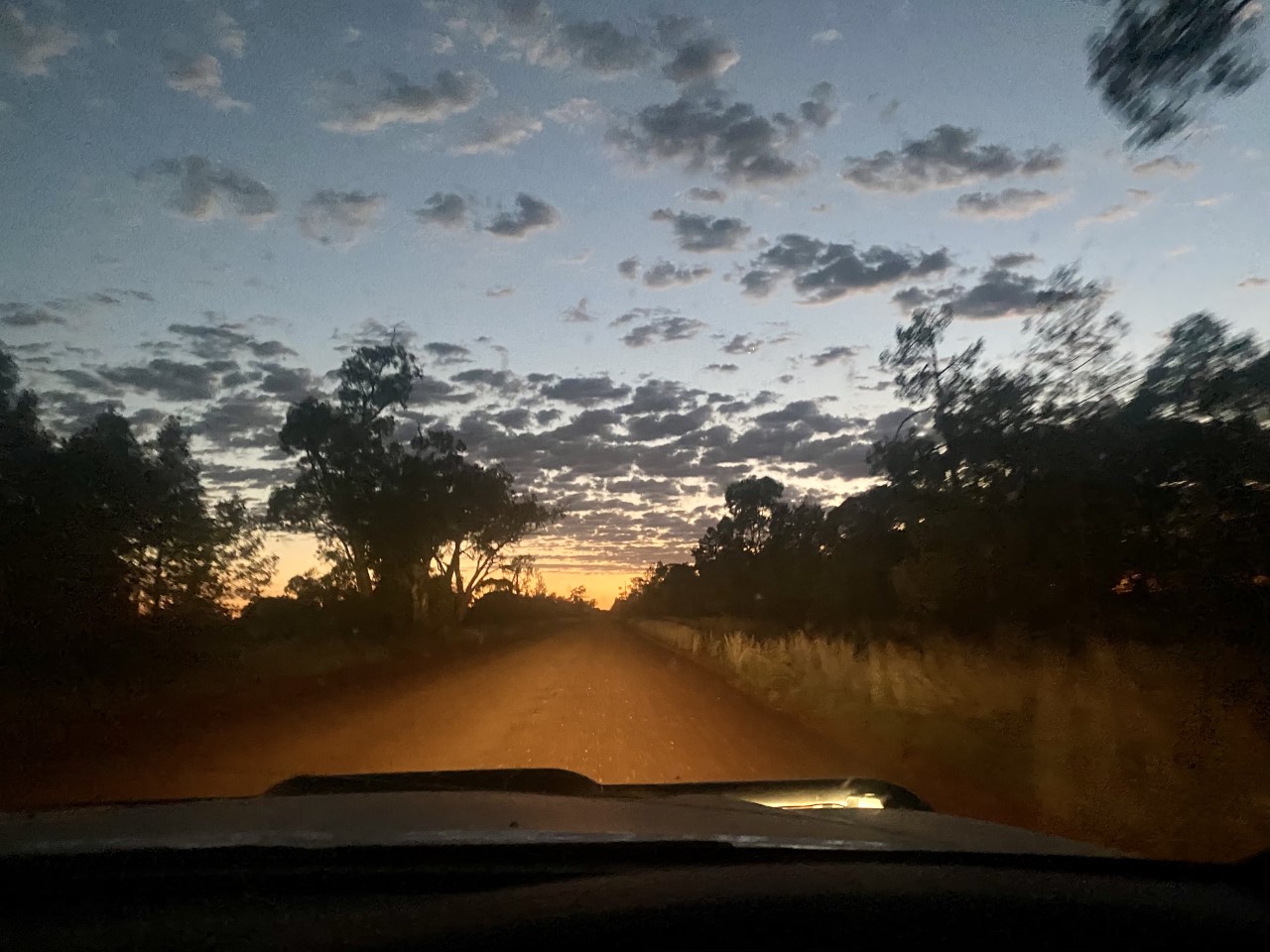 Pipi and Tia had both hunted with the old fellas, and as I expected, both stepped up a notch in the team. I had added a niece of Pipis that was shaping up well. I had also got hold of a whippet cross pup called Jess. Her father was a dog from a much sought after line over here crossed with a whippet, her mother a pure Collie. As a pup she showed amazing intelligence and ability to learn. I was very keen to get her started and when she did, she didn't disappoint. By the time she had been on half a dozen pigs she was finding and bailing.
Most of the country I hunt is cropping surrounded by bush hills. Numbers aren't high like in some parts of Oz, but with a bit of persistence and local knowledge the hunting can be very productive. However constant rain over a long period and the abundance of crops around a large area due to the rainfall tends to spread the pigs out a bit. Added to this the limited number of hunts I managed to fit around the rain and work were pretty much hit and miss.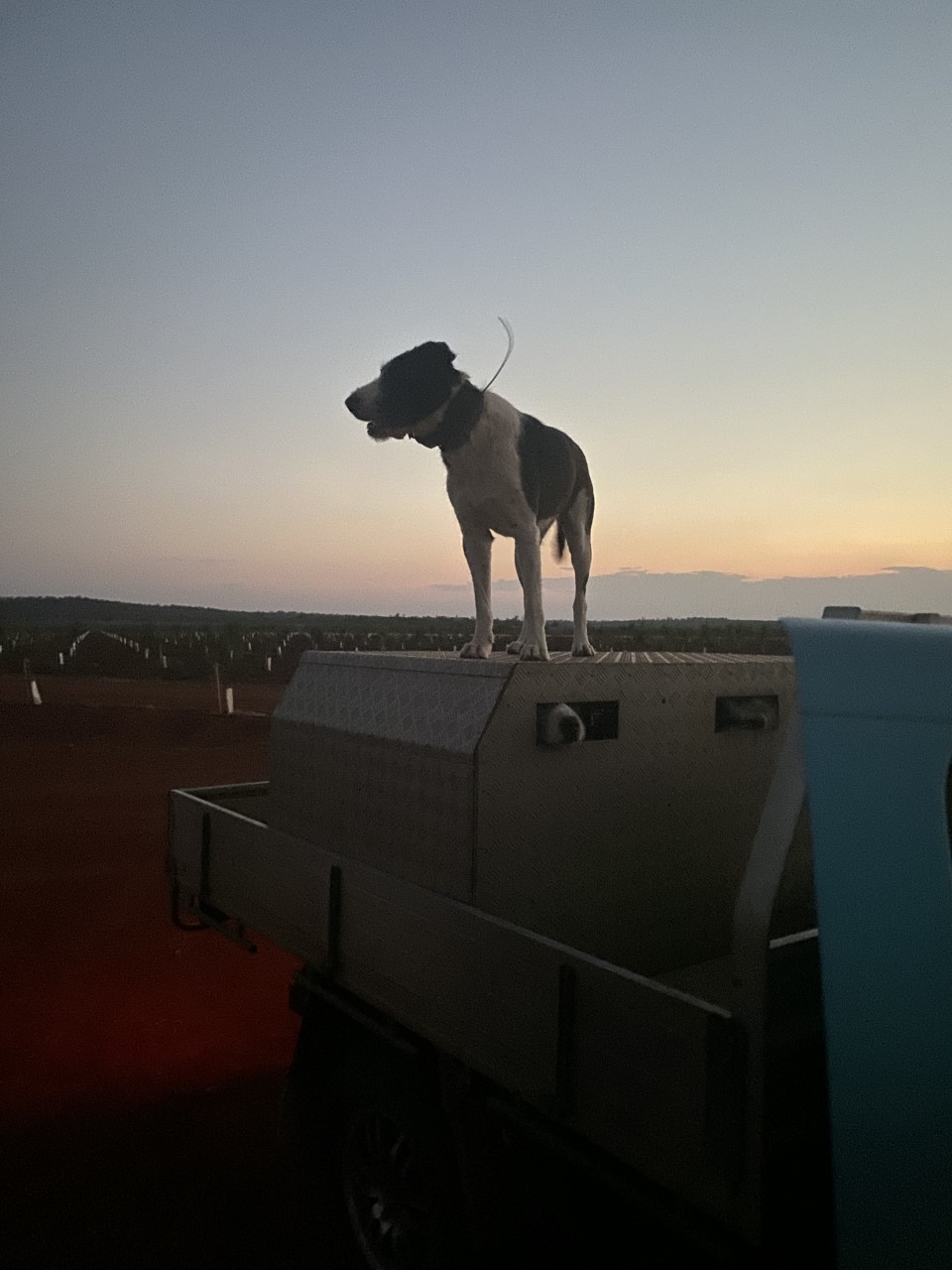 I have never got into the Ute hunting that is a big part of the Aussie hunting scene, but I found when hunting a property with no idea where to start looking, chucking a dog on the back and driving the tracks between the bush and the crop edges looking for sign wasn't a bad option. I also realised that had a bitch, Pipi, that was very good at winding pork from the ute and catching it.
This cropping season the farmers have planted a lot of canola – a horrible crop to push through when the dogs are on a pig. This year the canola, due to the high rainfall, was much higher and thicker than normal, and I tended to keep away keep away from these crops. However heading up a steep track on a large bush ridge with a heavy canola crop to my left, I noticed Pipi seriously winding from the ute deck, there had definatly been something about, and I had a horrible feeling the scent was from the canola and not the bush on my right. Pipi confirmed this by jumping from the deck, heading about 50 meters up the track and into the canola. Bugger. There was no doubt she was onto something so I let the other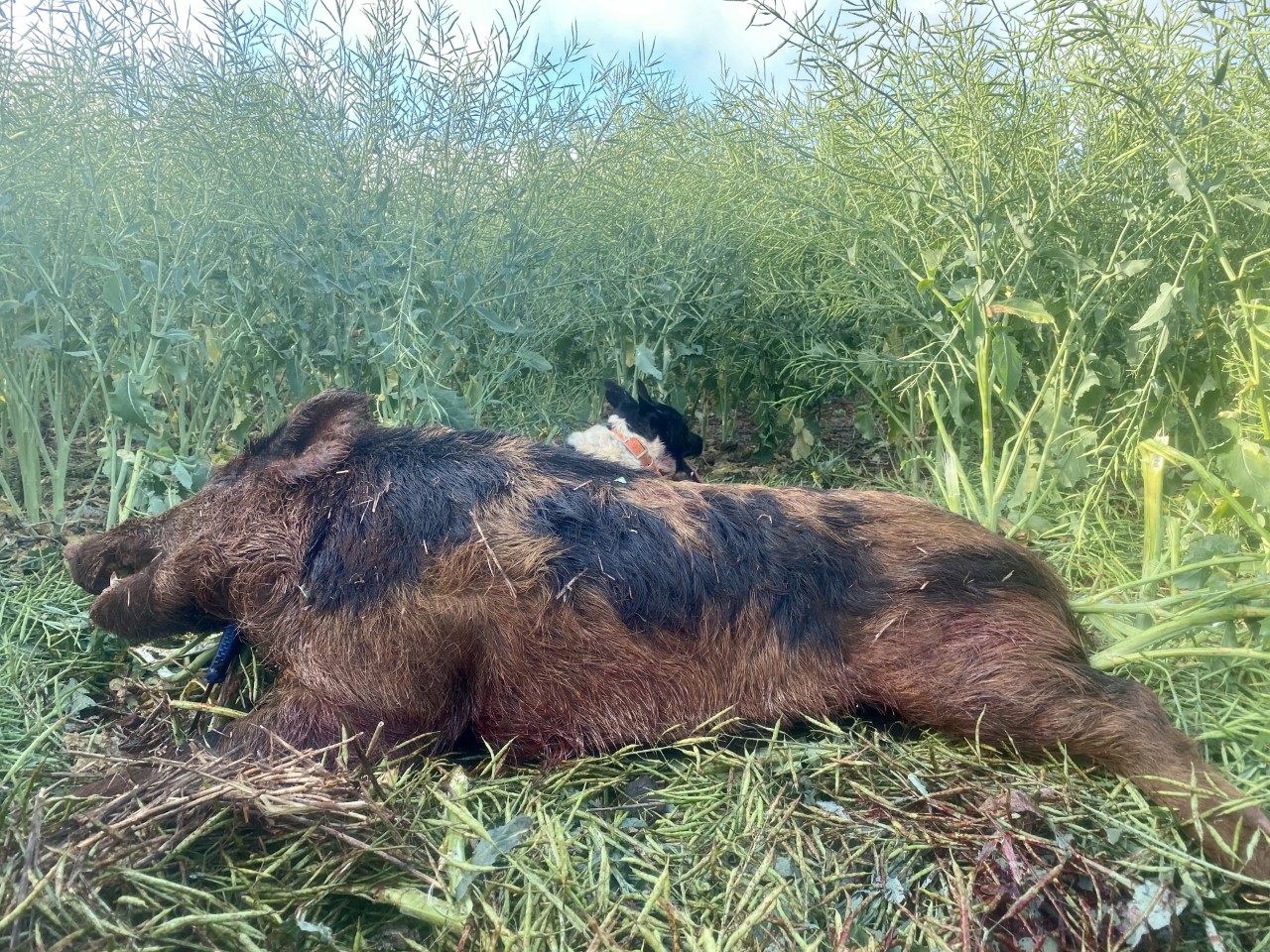 dogs out. Tia and Zipper shot up the track and entered the crop where Pipi had gone in, but little Jess, the whippet cross hit the ground and shot straight in where we stood. I strapped on my knife, grabbed the tracker and waited. The tracker was showing Jess at 200 meters, working a circle, Pipi and Tia out further but working back towards her. I was hoping like hell that they didn't go too much further out, because this crop was a thick bloody jungle. Being quite small and very fast must have given Jess the edge in that stuff I suppose because at 250m she barked and surprisingly went straight in to a bail. Checking the tracker showed Pipi and Tia 40 meters away and closing. Zipper who had returned to me was on her way and I was hopeful that it would all come together right there, no run around in the thick crop and no further out. They all hit and after a bit of a dust up settled into a steady bail. 250 meters away sounds like an easy pig, but it took me 25 minutes to struggle through that stuff. I was 50m away when there was another dust up and they grabbed him. I not sure if the pig heard me and tried to break, or the dogs heard me and went in, which ever I was very grateful, a bailed pig in chest high canola is not much fun. Breaking out into the area flattened by the scrap I was happy to see they had a very decent boar and even happier to see he was well held by Pipi and Tia on the ears and had his backside firmly planted on the ground with Jess and Zipper barking. The two young bailers are very hard on the nuts and seeing him sitting explained the strangled squeal I'd heard when they grabbed him, which had made me think it was a smaller pig. Good job young dogs, and needless to say it took way longer than the 25 minutes to get in to him to get him out.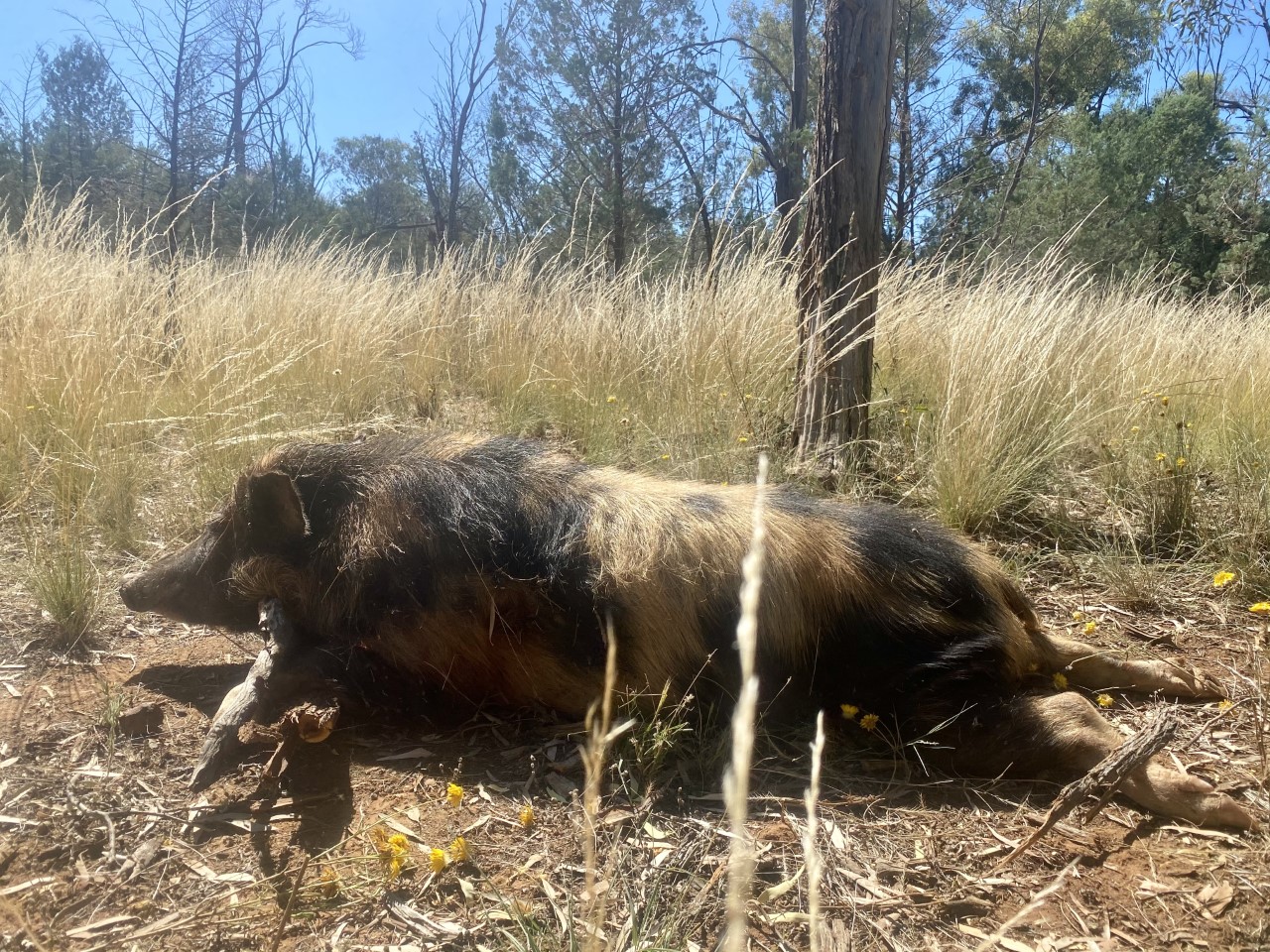 A couple of months later, same property but a different block and crop that was a month overdue for harvest due to the rain, I'd been all over the property since first light looking for sign to walk on and came up with nothing. It was over 11am and already over 30 degrees, I decided to check out one last block for sign, as I intended to hunt the next morning. Once again driving a track between crop and a long bush ridge, with Pipi winding frantically- surprising considering the time of day. She left the deck and headed up the hill. I let out the other three dogs and they headed straight up behind Pipi, by the time the first bark came – Pipi this time – they were all on the spot and held a very fat sow at 320 meters, leaving me with a short all downhill carry to the ute. Straight to the nearest dam to cool the dogs down, a cold beer for me and home. I can see why the Aussies like this ute hunting.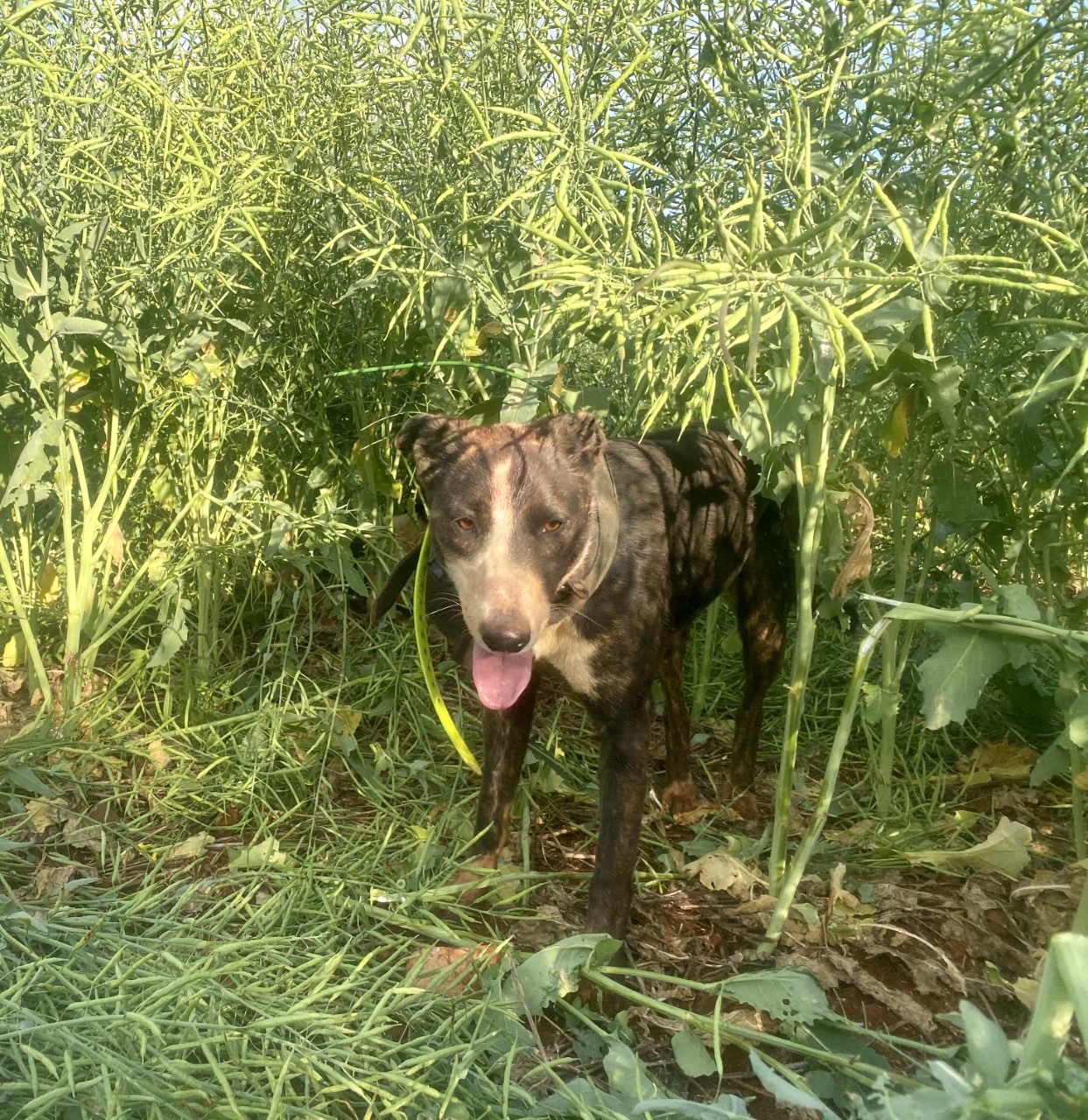 One thing I did notice on the way to the dogs was a very large fresh boar mark. I had half an idea where he would head to, and so had a hunt for tomorrow. That hunt as it turned out is a story by itself so I'll save it.
John Witham