On the Sunday, Mark, Rob, his son Ethan and I would meet at 5am at the servo and head to the forestry. Although it wouldn't be light until 7am, I wanted to beat everyone else. Finally the alarm went off and I flew out of bed. I had three brews, grabbed my gear, let the dogs out and headed off to meet the crew. We sorted out the dogs and loaded them in Rob's dog trailer. The finders were my Ruff and Boog (both Beardie crosses) Rob's bitch Quickly (Cattle/Mastiff type cross) and Mark and Rob's purebred American bulldogs as the backup, should we run into the monster… He's out there somewhere.
After a 40 minute drive, we arrived at the forestry gate – first there- awesome. We let the dogs out and logged our collars on our Garmin receivers, making sure we had no interference from each other's collars. This was very important as we'd had problems before deleting dogs and not being sure which was which. It was time to look for a pig. We headed off down the road, aiming to hunt the main road between the pines and the native. I find this is the best place to start as the boars tend to travel from the native to bed down. You just have to be ready to follow your dogs as they can go a long way really quick. After walking for about 25 minutes, we were approaching the saddle where the native starts and we were all quietly hoping action was going to take place soon. The dogs were busy doing their jobs, checking the pig runs out and we were wandering along slowly, giving them time.
We had walked over halfway along the native boundary when we noticed the finders had gone over the edge into the native and were off. We all stood in the dark quietly hoping for a close find, watching our screens and waiting for the 'dog standing' signal. The dogs had by this time gone 600m and were heading over the ridge in front of us. We had a quick council of wat and decided to head off to a high point in the native and see what these long range dogs were up to. Our dogs all go a long way which can be a pain in the butt, but I have decided that's what the pigs do so the only decent dogs is the one that goes the distance too. We got to our high point to find that Quickly was standing at about 1km with Ruff and Boog heading there in a hurry.
It was our turn to start moving and we did. I led the was with Mark keeping an eye in his GPS to ensure we went the right way and to make sure the dogs stayed there. We had gone about 300m when Mark said "all the digs are there". None of us could hear anything but we kept going. Then with only a couple hundred meters to go, Rob noticed the dogs were starting to move off and were beginning to come back.
"Bugger, they killed it" I said. Mark volunteered to go and try to find it as Peewee (Mark's bulldog) was still there. 'Sweet, we'll wait here" I said. Rob, Ethan and I pulled out smoko and sat down for a rest. One by one the dogs came back looking happy with themselves. W gave them a pat and waited for Mark to come back, maybe with their kill.
Rob and I reflected on past runs and how many times this had happened before but hey, we both knew the day you leave the big boys at home is the day you hit the big one. Mark turned up looking frustrated as Peewee had moved off from where the pig was and he couldn't find it. "Bugger" we all said. Never mind, it was still early so we decided to head back to the road and hunt the pines. The climb back to the road was uneventful and we were all happy as we came back onto the firebreak. Here there were young pines which were only about knee high with rows of slash between the rows of trees. We had all relaxed and were talking about where to go next.
Looking up I noticed Ruff heading down into these young pines. I dint really think anything was going to happen because it was fully daylight by then and these pines were very open. We all ran up to look into the gully as Ruff barked and straight away we spotted a boar with his tail pointing straight up leaping the slash in single bounds and leaving the dogs strung out behind.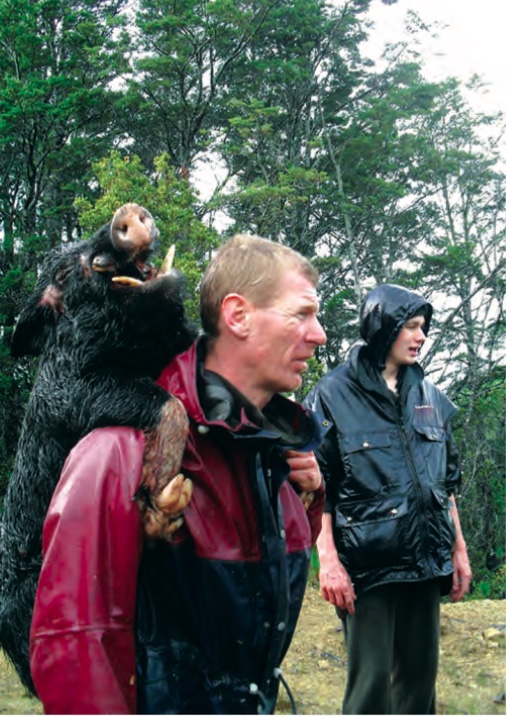 Ruff was trying to catch up but the slash was hindering his efforts, we were all standing and staring like stunned mullets but then the boar turned and came up towards us, knowing that he had to get back to the native to make good his escape. We must have all clicked at once – this boat had to go past us and we could turn him back towards the dogs who were trying their hardest to catch up.
We all spread out like the All Blacks back line, yelling and waving our arms, trying to confuse the boar and turn him back on the dogs. But there was no way this pig was going to fall for that trick and with no gun (we dint believe in shooting running pigs anyway) he charged straight through our line of defence and over the side into the native. All I noticed was a huge set of grinders and a set of nuts as he went past about 2m away.
"Come on Ruff, catch the bugger!" we all shouted as we showed him where the pig had gone past. Rob was waving goodbye to the pig and I was wondering how far the dogs were going to chase him. Quickly and Boog were next past on the chase with the bulldogs way behind. We all stood there thinking how close that was when all of a sudden, a good squeal went up. Ruff, you bloody legend?
With a quick check of the GPS, we were off. Ruff had him 400m away. Running down into the native and beginning the sidle there, we found the native open and with a good pig run to follow, it didn't take long to get there. We even managed to beat the bulldogs and we found Mr Boar well anchored with Ruff and Quickly on each ear and Boog over his snout. The boar's running days were over. Mark wanted to wait for the bulldogs but it was a steep drop of 30m down the creek and I didn't wasn't the pig to go down there. Rob and Ethan saw their chance and jumped in and put the scrap to an end. "That's how you do it" Rob said.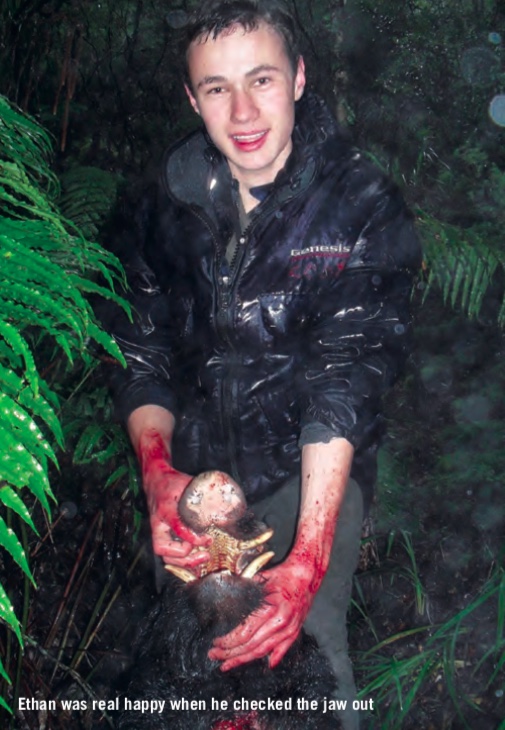 We were all still pumped and goofing off, checking the dogs out and finally taking a good look at the boar. He wasn't the biggest but he had a beauty set of tusks. After a bit of discussion about the head, Rob decided he was going to get it mounted. We all laughed and fully agreed. Then came the task of gutting the boar and tying it ready for the carry and with Rob being the butcher, we left that to him.
Ethan stepped up for the first carry and we headed straight up towards the fire break. Ethan did well but with four of us there it was soon my turn – no point in busting one's gut. After a couple of hundred metres, we broke out of the bush to where it all started. I headed over the skid site and dropped the boar. We all had a drink and the rest of our smoko. Mark took a few photos while we reflected on the highs and lows of our morning hunt. All that remained now was a 3km carry back to the truck. Roll on next weekend when we get to do it all again.
The boar weighed in at 96lbs with 3 inch tusks and is now waiting to be mounted and hung on Robs wall.
Peter Baker