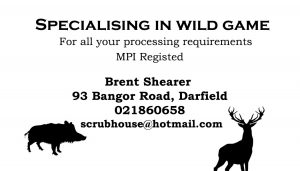 Prepping the meat – Words from a Butcher
A lot of us hunt to feed our family and friends so making sure we prep our wild game properly is key to utilising our meat. I had to yarn to Brent Shearer from Shearer Homekill asking a few questions for some tips to help us hunters out before we take our oinker to the butcher.
Brent has been in the butchering industry for many years and prides himself in making quality small good, dealing with wild game and always up for a hunting yarn. He is a hunter himself when he gets the time and being only 40 minutes out of Christchurch in good ol Darfield its not far to get your wild game processed right at a great price. His bacon is the best I have ever had made and I've had a lot of bacon made!
Subscribe to Hooked on Boars to view premium content!